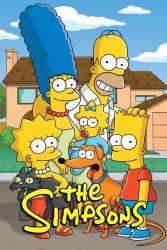 Plot hole: When Bart prank-calls Moe and tells him his name is Jimbo Jones, Bart says that he lives at 1094 Evergreen Terrace instead of 742 Evergreen Terrace, where Jimbo and Bart are. If Moe had taken those directions, he wouldn't have arrived at the house, instead he would have gone somewhere different.
CuriousKid1
Continuity mistake: Millhouse's hair color changes from when we first see him to when Bart comes back to the school yard.
manthabeat
Continuity mistake: In the surgeon's office there are three certificates on the wall with ribbons on them. In the first shot there are two red ribbons and a blue one but in the shot where Homer stands up to read the bill all the ribbons are red.
dalekanium
Continuity mistake: After the boy's car gets crushed, Bart sells Milhouse's glasses for $600. Then Milhouse knocks over the Coke bottles and the clerk gets the money back and keeps the glasses. The next scene, where they try to get on a train that goes to Springfield, you can see Milhouse in his glasses and throughout the rest of the episode.
mrlime
Factual error: When Bart is at Nelson's house and Nelson is firing the BB gun, bullets should come out of his gun when he pumps it. None ever come out, and several times he is shown firing without pumping.
I Don't Wanna Know Why the Caged Bird Sings - S19-E4
Factual error: During Dwight's attempted bank robbery, he gets hit with a couple of dye packs, then appears a few shots later totally clean. The dye packs banks use are notoriously difficult to wash off once they're triggered; even if Dwight did manage to clean himself up, there would still be remnants of dye on him.
Cubs Fan
Love, Springfieldian Style - S19-E12
Continuity mistake: In the third story of the episode, Bart and Nelson throw Martin into the Jukebox despite it never being opened. When he is trapped inside the box the glass is firmly in place as well.
Lummie
Continuity mistake: Near the end when Homer is going into the show, he is not holding his coat. Then it appears in his hands and gets stolen. In the very next scene, he then wears his coat again. (00:19:40)
Hamosh86
Join the mailing list
Separate from membership, this is to get updates about mistakes in recent releases. Addresses are not passed on to any third party, and are used solely for direct communication from this site. You can unsubscribe at any time.