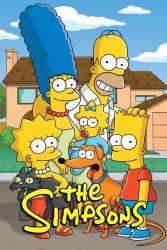 5 mistakes in Lisa vs. Malibu Stacy
Lisa vs. Malibu Stacy - S5-E14
Continuity mistake: When Lisa and Marge go on the tour, when the film has finished the woman turns it off with a remote controller and puts it behind her back. In the next shot from behind her it isn't in her hands and there is no sign of a pocket or any indication she put it anywhere else.
David Mercier
Lisa vs. Malibu Stacy - S5-E14
Continuity mistake: When the Simpsons are leaving the house to go to the mall. The aerial shot shows that they are leaving in Marge's red station wagon, but the very next shot of them in the car shows that they are in Homer's pink sedan. The shot of the station wagon leaving is probably a re-used shot from a previous episode.
Nikolai
Join the mailing list
Separate from membership, this is to get updates about mistakes in recent releases. Addresses are not passed on to any third party, and are used solely for direct communication from this site. You can unsubscribe at any time.