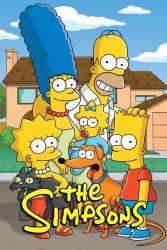 11 corrected entries in season 2
Corrected entry: When Bart first writes 'Treasure Island' on the board he has written it on two lines, the 'Treasure' is above the 'Island'. But after a couple of shots we see the blackboard again and the two words are next to each other.
domwhit23
Corrected entry: When Homer gets stuck in the water slide, a few kids are sent down to dislodge him, and they get stuck too. However, when the section of pipe containing him is removed later, the kids are nowhere to be seen.
Corrected entry: In this episode Mr Bruns has a big tub of beer with Homer, but in "Homer the Smithers" Mr Burns is drinking beer from a spoon as if he had never tried it before.
OL1V3R666
Homer vs. Lisa and the 8th Commandment - S2-E13
Corrected entry: When Homer is browsing the channels he says "seen it" to all of them. One of them is a non-violent Itchy & Scratchy episode as seen in "Itchy & Scratchy & Marge" (we don't see it but we can hear it). One says "Lemonade", and then Itchy (I think) instantly says "Please". But when you see the episode in "Itchy & Scratchy & Marge" there is a short break between their sayings. This was done on purpose to reduce time.
OL1V3R666
Corrected entry: When Bart watches "Gorilla The Conqueror" with Homer, the giant gorilla in the film throws a tree at various people. Some of the people are in mid-air before the impact.
The War of the Simpsons - S2-E20
Corrected entry: After Marge explains why they're having the party, Homer recalls their wedding very vividly, having, "priests, champagne, and musicians," but in Season 3, "I Married Marge," their wedding isn't that spectacular as Homer remembers.
Corrected entry: The flag outside Springfield Elementary remains still in the wind.
Corrected entry: Marge should not have received the letter from Ringo Starr because of the fact that she was in her teens when she wrote the letter to him, and she was not living in the Simpson family's current house.
Video
Continuity mistake: This is a mistake for the introduction from seasons 2-20 (1991-2009). When Homer screams, he turns round. You see this in a wide shot. There are no boxes to the right of the door in the garage. However, two just appear out of thin air when he runs through the garage. (00:01:50)
More mistakes in The Simpsons
More quotes from The Simpsons
More trivia for The Simpsons