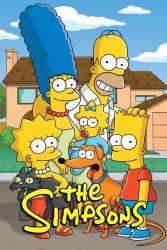 10 mistakes in Homer vs. Lisa and the 8th Commandment
Homer vs. Lisa and the 8th Commandment - S2-E13
Revealing mistake: When Homer is imagining being locked in the jail cell and he turns around to find he is in his own home, he turns to look at his family. There is a close up shot of his terrified face, and the people in the background watching the game (I think it might be Lenny and Carl) have no eyes. The rest of their face is fine, but their eyes are missing.
Homer vs. Lisa and the 8th Commandment - S2-E13
Continuity mistake: When Homer is sitting watching cable, the rest of the family comes home and one of them is carrying a plant in a pot, which is put down next to the couch. While they watch and watch cable, it grows very tall and then withers down. When Homer goes behind the TV and starts kissing the wires, the plant has moved to next to the doorway and is suddenly fully grown again.
He's My Brother
Join the mailing list
Separate from membership, this is to get updates about mistakes in recent releases. Addresses are not passed on to any third party, and are used solely for direct communication from this site. You can unsubscribe at any time.