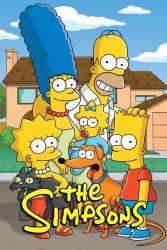 7 corrected entries in season 10
Corrected entry: Homer's pet lobster, "Pinchy" is red. However, lobsters aren't red until you cook them. When they are alive they are brownish/black.
Wild Barts Can't Be Broken - S10-E11
Corrected entry: When the kids are broadcasting townspeople's secrets, and everyone else is in the meeting, Lisa says "And guess who's been practising medicine without a licence?" - scene cut, then cut back to the sign - "That's right: Homer Simpson" immediately afterwards, "D'OH!" is heard. The kids are OBVIOUSLY at least 1.5 miles from the town hall, so there should have been a sound delay in between Lisa's last statement and hearing Homer's voice.
Homer Simpson in 'Kidney Trouble' - S10-E8
Corrected entry: This concerns when Bart is in the ghost town, watching the robotic can-can dancers. When the four dancers first come out and start their kicks, one loses a leg which goes flying out of the window, breaking it. However when the camera cuts back to the dancers they all have both their legs.
Corrected entry: When Red is declared the winner of the eating contest and dies, just before he is pronouced dead by Dr. Hibbert he blinks. Last time I checked dead people don't blink.
Video
Continuity mistake: This is a mistake for the introduction from seasons 2-20 (1991-2009). When Homer screams, he turns round. You see this in a wide shot. There are no boxes to the right of the door in the garage. However, two just appear out of thin air when he runs through the garage. (00:01:50)
More mistakes in The Simpsons
More quotes from The Simpsons
More trivia for The Simpsons
Join the mailing list
Separate from membership, this is to get updates about mistakes in recent releases. Addresses are not passed on to any third party, and are used solely for direct communication from this site. You can unsubscribe at any time.