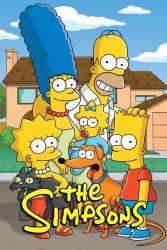 0 corrected entries in season 32
The Simpsons Christmas Special: Simpsons Roasting on an Open Fire - S1-E1
Continuity mistake: Lewis changes from black to yellow when Milhouse dares Bart to pull Santa's beard off. (00:14:10)
More mistakes in The Simpsons
Homer's brain: It's simple, just use reverse psychology.
Homer: Reverse psychology? That sounds too complicated.
Homer's brain: Alright, don't use reverse psychology.
Homer: Alright, I will!
More quotes from The Simpsons
Trivia: The Simpsons holds the record for most guest stars; it is also the only non-variety show to have had appearances from three former Beatles (Paul, George and Ringo).
More trivia for The Simpsons
Question: Which episodes feature the "Howling Dog" (usually used on outside shots of buildings)?
More questions & answers from The Simpsons