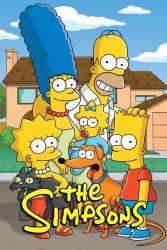 8 mistakes in Lisa Gets an A
Revealing mistake: When Lisa is daydreaming about her failed test, the president of Harvard talks to her. When he says, "Nasty business that zero", his right white sleeve turns the same color as the glass above the door.
Continuity mistake: When Ralph comes to see Lisa, she is wearing her turquoise slippers. However, after he leaves and she drops the book on the floor, her slippers have gone.
Audio problem: When Homer says "According to my driver's license, I weigh 140 pounds" his mouth is not in sync with his voice.
Nikolai
Revealing mistake: Two kids in the middle of the class do not have a test. However, they are shown writing on their desk as if they had a test paper.
Nikolai
Revealing mistake: When Nelson is offering Lisa the fraction quiz answers, right before Lisa says she's never cheated before and won't again, her right hand disappears for a single frame.
Join the mailing list
Separate from membership, this is to get updates about mistakes in recent releases. Addresses are not passed on to any third party, and are used solely for direct communication from this site. You can unsubscribe at any time.