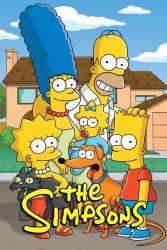 10 corrected entries in Saturdays of Thunder
Corrected entry: When Marge asks Homer to open the door for her sisters, he says "Patty. THELMA." (The English captioning has that mistake as well, but is correct in the Spanish captioning) (00:03:30)
Corrected entry: When Homer does the test again, he doesn't read the questions in order if you look carefully on the sheet. (00:18:00)
Yoshi
Corrected entry: Before the time trials start, we can see how far the track is, but while Bart, Nelson and Martin are racing, considering the speed they're traveling, the track seems much longer. (00:12:25 - 00:14:35)
Yoshi
Corrected entry: If you watch the scene in slow motion where Nelson is attacking Bart at the time trials, you can see another Bart in the audience. (00:14:00)
Yoshi
Corrected entry: When Bart is showing his Soap Box racer To Martin and his other friends, we see an oil spill on the driveway which is grey. In another shot, the oil is black.
Corrected entry: As Bart tells his friends about his racer, there is a set of stairs visible at an impossible area of the garage. (00:09:00)
Yoshi
Corrected entry: On his soapbox derby racer, Bart is pounding his hammer on an area that doesn't have nails in it. (00:08:00)
Yoshi
Corrected entry: During the finals, if there was a paper speedometer on the Honor Roller, why would the speedometer be working at all then? (00:20:10)
Yoshi
Corrected entry: Homer complains that he missed a part of Joe Theisman. It's a TAPE. He can just watch it over again. (00:07:10)
Yoshi
Corrected entry: Why would the audience NOT notice that Nelson was given a knife by his friends? (00:13:40)
Yoshi
Join the mailing list
Separate from membership, this is to get updates about mistakes in recent releases. Addresses are not passed on to any third party, and are used solely for direct communication from this site. You can unsubscribe at any time.