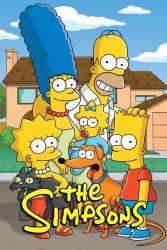 11 mistakes in Flaming Moe's
Continuity mistake: At the bar, we see Mrs. Krabappel, and she disappears for the rest of the scene. (00:13:40)
Yoshi
Audio problem: When Homer goes to another bar we hear him say "Ah, my new watering hole." His mouth doesn't move. (00:17:10)
Yoshi
Factual error: When Bart is trying to escape from the girls at the start, Bart's door opens into the room. This would mean the hinges would be inside Bart's room and the girls couldn't have been able to remove them.
Continuity mistake: When Homer enters Moe's tavern, Moe is playing solitaire. The cards on the table are face down/face up between shots. (00:04:45)
Yoshi
Continuity mistake: Homer drives to Moe's Tavern with his normal shirt on. He has his green jacket on top of it in the next shot. (00:04:45)
Yoshi
Continuity mistake: When Moe tries the Flaming Homer, there are bottles that keep appearing, and the knife disappears suddenly. (00:06:55)
Yoshi
Continuity mistake: During the scene where Homer invents the 'Flaming Homer,' The items that Patty and Selma are holding keep disappearing. The beer can in Patty's hand also appears suddenly. (00:05:45 - 00:06:50)
Yoshi
Continuity mistake: As Homer watches TV at the beginning, if you look really closely, you can see the remote on the couch colored to be exactly like brown. It then disappears eventually, and then reappears. (00:01:35 - 00:02:30)
Yoshi
Continuity mistake: When Homer apologizes to Moe at the end, he comes in while the door is left open. It remains closed for the rest of the scene. (00:21:05)
Yoshi
Join the mailing list
Separate from membership, this is to get updates about mistakes in recent releases. Addresses are not passed on to any third party, and are used solely for direct communication from this site. You can unsubscribe at any time.