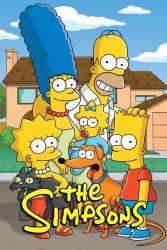 2 corrected entries in Midnight Rx
Midnight Rx - S16-E6
Corrected entry: The towel Flanders wraps around Apu's head changes shape between when it is first applied, and when the customs agent sees Apu. First it is an almost perfectly round shape with no loose ends, then it becomes a more flat shape with a loose end hanging over Apu's shoulder. When Apu is seen inside the police van, the towel is once again in the original shape.
Twotall
Midnight Rx - S16-E6
Corrected entry: In this episode Apu says in the car on the way to Canada that he worships several gods. But in a much earlier episode, "Homer's Barbershop Quartet" during a flashback when Apu is asked to change his name he says "It is a great dishonour to my ancestors and my god."
OL1V3R666
Join the mailing list
Separate from membership, this is to get updates about mistakes in recent releases. Addresses are not passed on to any third party, and are used solely for direct communication from this site. You can unsubscribe at any time.