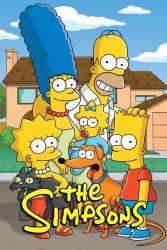 Continuity mistake: When Martin does his book report, on the blackboard it says 'An afternoon with Ernest Hemingway: Reflections by Martin.' But when Bart goes up to do his report, the blackboard is clean. (00:01:25 - 00:02:20)
Hamster
Continuity mistake: When Lisa shows her exam to her family, the "a" note keeps changing from being circled in red and in a red round. (00:04:30)
Dr Wilson
Continuity mistake: The door to Mrs. Krabappel's classroom has a window, but when Bart fakes being sick then walks out of the class (we see the desks as the door closes), the door's window has vanished, and the doorknob has switched sides as well. Additionally, earlier, when Bart deliberately falls off his chair in class, note that one of the bars on the back of his chair has gone missing.
Super Grover
Character mistake: When Bart fakes being sick, on his way to the infirmary he passes the door with a sign that reads "maintanence" but the proper spelling is "maintenance", and when Bart reaches the infirmary, the sign on the door reads "ineirmary."
Super Grover
Continuity mistake: When Bart fails the test despite having actually studied, we see the two red "X" marks in the center row of the multiple choice questions, but after Mrs. Krabappel passes Bart because he applied practical knowledge, when Homer hangs the test up on the fridge those two "X" marks in the center have vanished.
Super Grover
Continuity mistake: The colour of the school changes from yellow when Martin and Bart are talking before the test to grey when Bart has spoken to Otto about being held back. (00:07:00 - 00:11:00)
Ssiscool
Join the mailing list
Separate from membership, this is to get updates about mistakes in recent releases. Addresses are not passed on to any third party, and are used solely for direct communication from this site. You can unsubscribe at any time.