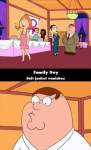 I Am Peter, Hear Me Roar - S2-E8
Continuity mistake: During Lois' fight with Gloria Ironbox, Peter is wearing his usual white shirt and not his suit for one shot, then goes back to wearing his suit. (00:20:40 - 00:21:10)
Nikolai
I Am Peter, Hear Me Roar - S2-E8
Continuity mistake: Peter complains about having to spend a week at a women's retreat for sensitivity training, but when he returns, the caption reads "two weeks later."
Cubs Fan
Join the mailing list
Separate from membership, this is to get updates about mistakes in recent releases. Addresses are not passed on to any third party, and are used solely for direct communication from this site. You can unsubscribe at any time.