3 mistakes in I Am Peter, Hear Me Roar
I Am Peter, Hear Me Roar - S2-E8
Revealing mistake: When Brian says "Well face it Peter, your attitude towards women isn't exactly enlightened", Brian's dog tag is the same color as his fur. It also stays still, even while Brian is moving his head.
xx:xx:xx
Nikolai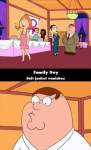 I Am Peter, Hear Me Roar - S2-E8
Continuity mistake: During Lois' fight with Gloria Ironbox, Peter is wearing his usual white shirt and not his suit for one shot, then goes back to wearing his suit.
xx:xx:xx
Nikolai
Join the mailing list