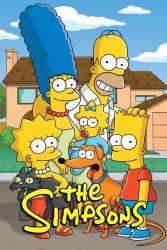 Other mistake: After the boxing match, the boys start "boo-ing" to the TV, and for a few frames Lewis goes from black to yellow, then to black, causing a flashing effect. (00:02:45)
Hamster
Other mistake: When Homer is giving people tartar sauce at the cafeteria, he says "plenty for everybody" with his mouth closed at the end of him saying it. However the photo in the newspaper is shown with his mouth open. Also, for the last part of "everybody" his mouth doesn't move.
OL1V3R666
Other mistake: When Bart enters the school bus at the day of history test, we see close-up of his "Early American History" book open about in the middle, on the page saying "Chapter 1". (00:06:10)
Bart Gets Hit By a Car - S2-E10
Other mistake: When Marge is being questioned, before she says 'If you don't have anything nice to say, then don't say anything at all', there is a shot over her shoulder looking at the blue haired lawyer. Not only is he (the lawyer) there directly in front of her, but he is also sitting on the bench with Burns. In all other shots his chair is empty as it should be.
Other mistake: In the DVD booklet, two errors are made for this episode. The booklet says Homer accuses Bart of ruining Thanksgiving and Bart was jealous of Lisa's centre piece. These are both incorrect: First, it wasn't Homer who accused Bart of ruining Thanksgiving, it was Marge who accused Bart of ruining Thanksgiving and second, at no point throughout the episode was Bart ever jealous of Lisa's centre piece.
Casual Person
Other mistake: When the town is singing the Christmas carol you can see Sideshow Bob, who was arrested and jailed in series 1. We know he hasn't been released, as that's a plot point over the show. (00:18:10)
Ssiscool
Other mistake: While Kent Brockman says "This reporter smells another local Emmy" after he gets back into his van, his face is drawn incorrectly.
Join the mailing list
Separate from membership, this is to get updates about mistakes in recent releases. Addresses are not passed on to any third party, and are used solely for direct communication from this site. You can unsubscribe at any time.