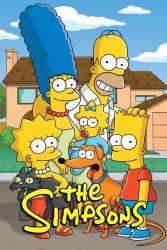 2 corrected entries in The Frying Game
Corrected entry: When Homer and Marge find Mrs. Bellamy's body, the body is shown to be neatly placed on the ground with Bellamy lying on her back. Homer then lifts up the body and it is shown that there is a pair of scissors stuck in her back. If scissors were stabbed in her back, then this means it wouldn't be possible for the body to be neatly placed on the floor lying on her back, as the scissors would cause the body to push upwards. (00:09:50)
Casual Person
Corrected entry: How can the citizens of Springfield, notably Chief Wiggum and Homer, not know that the whole murder was a reality show? If FRAME UP was the highest rated reality show on FOX, surely there'd be promos for it on TV and in TV Guides.
Join the mailing list
Separate from membership, this is to get updates about mistakes in recent releases. Addresses are not passed on to any third party, and are used solely for direct communication from this site. You can unsubscribe at any time.