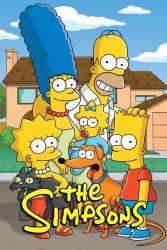 4 mistakes in The Homer They Fall
Continuity mistake: The extension cord Jimbo is using for a belt disappears after they run around the corner of the corridor whilst chasing Bart.
Migster
Character mistake: Moe says that no women have been to his bar since 1979, yet in "Flaming Moe's" he hires a female waitress. Also, in the episodes "New Kid on the Block" and "Homer the Vigilante," Ruth Powers appears in the bar, and orders a beer in the former episode while Marge visited the bar in "Bart Gets Hit by a Car."
Join the mailing list
Separate from membership, this is to get updates about mistakes in recent releases. Addresses are not passed on to any third party, and are used solely for direct communication from this site. You can unsubscribe at any time.