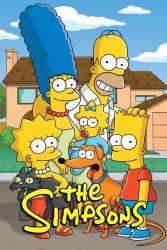 11 mistakes in When Flanders Failed
Factual error: When Rod and Todd Flanders are roasting marshmallows in the car, Todd's marshmallow was the only one above the lighter, even though both of them have turned black. (00:17:40)
Yoshi
Continuity mistake: At the beginning, when there is an overhead shot of the Simpsons' lawn, the broken lawn mower has disappeared. (00:01:20)
Yoshi
Continuity mistake: At the end, you can briefly see Dr. Marvin Monroe. The cigar he is holding instantly changes from white to brown. (00:21:25)
Yoshi
Continuity mistake: When Homer buys Ned's living room for $75, Bart is wearing a pink "Ned loves Maude" T-Shirt but by the end of the scene where Bart says "Hands off my china hutch." his shirt is the standard orange shirt.
Continuity mistake: When Homer goes to the barbecue, he grabs a plate of burgers. There isn't a burger at the top of the pile. However, when Flanders talks to him there is a burger on the top.
OL1V3R666
Continuity mistake: When the family is having dinner, the glasses on the table keep disappearing/reappearing between shots. (00:09:30 - 00:10:30)
Yoshi
Character mistake: When Homer discovers that the Leftorium is going out of business, there is a sign that says 'Coming Soon: Gum for Less' beside the store. Later on, though, Ned says the new store is becoming 'Libertarian Party Headquarters.' (00:15:50 - 00:19:15)
Yoshi
Join the mailing list
Separate from membership, this is to get updates about mistakes in recent releases. Addresses are not passed on to any third party, and are used solely for direct communication from this site. You can unsubscribe at any time.