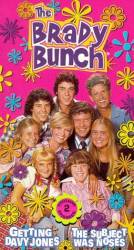 Plot hole: At the end of the episode, the younger kids are singing the song "Girl" that Davy Jones did a little earlier in the show. The problem is that the song was just recorded and hasn't been released yet, they couldn't possibly know the song. Davy gives Marcia an LP, but it is on the same day the song was recorded, it couldn't be on there either.
Is There a Doctor in the House? - S1-E13
Plot hole: Lots of factors here: The doctors end up with the opposite kids that they were supposed to have... Why didn't they simply switch in the first place rather than go through all the drama? Also, the male doctor admits Alice let him in and most likely Alice would have told him first door on the right (like she's given directions in other episodes) to locate Peter. And the biggest question of all is, what doctor would make a house call and not look for their patient rather than just ending up with someone else they were not called to see (remember, each parent called their own doctor to see their biological kid).
Lights Out - S2-E20
Plot hole: When Alice brings Cindy to the auditorium to help Peter in his magic act, her cape is already there backstage. She was not going to be the assistant until Jan got hurt. (00:22:10)
jairodrigue
Plot hole: The Bradys and Alice run a relay through the amusement park to get the sketches to Mike at the manager's office. They locate another person to pass the cylinder off to when they get too tired to run. But they all arrive together seconds after Carol gives the sketches to Mike. (00:19:15)
jairodrigue
Plot hole: Greg Brady is suppose to be under 21 so he can't legally sign any type of contract, also at the end he rejects his new persona and tears up the contract. Tearing up a contract doesn't nullify it.
hifijohn
Join the mailing list
Separate from membership, this is to get updates about mistakes in recent releases. Addresses are not passed on to any third party, and are used solely for direct communication from this site. You can unsubscribe at any time.