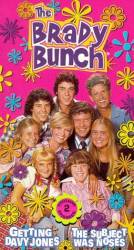 2 mistakes in Getting Davy Jones
Plot hole: At the end of the episode, the younger kids are singing the song "Girl" that Davy Jones did a little earlier in the show. The problem is that the song was just recorded and hasn't been released yet, they couldn't possibly know the song. Davy gives Marcia an LP, but it is on the same day the song was recorded, it couldn't be on there either.
Continuity mistake: When Marcia is sitting on the couch talking with Davy, the small beige pillow behind her is either up on the back of the couch or much further down depending on the shot. (00:23:20)
Jeff Swanson
Join the mailing list
Separate from membership, this is to get updates about mistakes in recent releases. Addresses are not passed on to any third party, and are used solely for direct communication from this site. You can unsubscribe at any time.