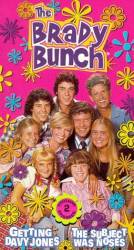 Continuity mistake: When Peter comes down to answer the phone, he's wearing a blue shirt. When he hangs up the phone, his shirt color changes to a light red/pink color. Then back to blue again.
Confessions, Confessions - S2-E12
Visible crew/equipment: During dinner, when the freshly glued vase with the flowers springs a few leaks we can see the top of the kitchen set, particularly when Alice makes the joke about three coins for the fountain.
Super Grover
Everyone Can't Be George Washington - S4-E12
Continuity mistake: When Jan's in the backyard checking on the cloud and moon set decorations being painted by Marcia and Cindy, there's less "dark and gloomy" paint actually painted on the cloud after Cindy stands up with the smiley moon. (00:06:20)
Super Grover
Snow White and the Seven Bradys - S5-E3
Continuity mistake: During the play, Mike's "Prince Charming" hat disappears and then reappears when he leans over to kiss Carol. (00:22:15)
Jeff Swanson
Continuity mistake: When Marcia takes her last turn placing a card at the top of the tall house of cards, in the shots facing her she's stressed about accidentally collapsing the cards so she holds back her charm bracelet with her left hand, but in the first shot facing the three boys Marcia's left arm is down at her side and the charm bracelet is dangling at her wrist, right beside the cards. (00:21:00)
Super Grover
Continuity mistake: At the start of the episode, in the exterior shot when Jan and Peter rush through the patio door Jan doesn't have a ribbon in her hair, but in the interior shot suddenly there's a long red yarn ribbon in Jan's hair.
Super Grover
Deliberate mistake: During Peter's party, when the girls start to gather around Peter to try and convince him that he's not dull, there's a closeup of Peter that's a flipped shot. Additionally, when everyone runs out for the fire drill, Peter's striped tie is tied very differently - it goes from grey/gold at the top to burgundy at the top.
Super Grover
Join the mailing list
Separate from membership, this is to get updates about mistakes in recent releases. Addresses are not passed on to any third party, and are used solely for direct communication from this site. You can unsubscribe at any time.