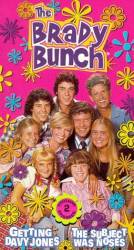 Revealing mistake: When Peter is on the trampoline, instead of saying "Peter," Carol says, "Go get 'em, Chris!" and a few minutes later the same thing happens after Cindy has a turn alone, you can hear Greg say "Why don't you give it a try, Eve?" (00:18:10 - 00:19:50)
Revealing mistake: When the Brady kids are practicing for the talent show, instead of saying, "Come on, Pete," Marcia says, "Come on Chris," which is the actor playing Peter's real name (Christopher Knight). (00:14:30)
Alice's September Song - S2-E23
Revealing mistake: One of the times that Sam comes over to visit Mr. Brady, he comes in through the back sliding "glass" door. There is no glass in the door. You can tell this because when Sam closes the door, to do so, he puts his hand through the areas where glass would be.
The Hustler - S5-E21
Revealing mistake: When Mike's boss, his wife and two other guests arrive at the house for a night of pool, the four guests are greeted at the front door, enter the brick entry foyer, and descend the steps into the living room. As the camera pans to capture the guests entering the living room, the obviously unfinished and unbricked end of the entry platform can be seen in the shot.
Top Secret - S5-E19
Revealing mistake: Bobby and Oliver are building a house of cards on a small platform sitting on the table when all of a sudden the house of cards collapses. The reason: the platform moves by itself. Clearly it was manipulated off-screen somehow. (00:01:20)
Jeff Swanson
You Can't Win 'Em All - S4-E22
Revealing mistake: When Cindy and her parents get home after the television show, just as Carol and Mike walk down the steps the set's unfinished wood can be seen at the edge of the steps, at the bottom right corner of the screen. (00:22:40)
Super Grover
Join the mailing list
Separate from membership, this is to get updates about mistakes in recent releases. Addresses are not passed on to any third party, and are used solely for direct communication from this site. You can unsubscribe at any time.