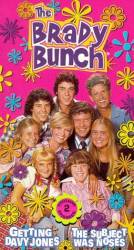 Corrected entry: After Jan and Marcia argue about Jan hiding Marcia's trophies in the closet, Carol and Mike take Jan to the den to talk with her. A few moments later, Marcia runs in to say she just got a call from the school...but we never hear the phone ring. In other episodes there are phones in the den, family room, living room, the parents room, and who knows where else.
retro tv fan
Kitty Karry-All is Missing - S1-E7
Corrected entry: Bobby is accused of stealing Cindy's doll, but there's no way that Bobby could have done it. Bobby left the room after talking to Cindy (not knowing Cindy was about to leave the room too), then Cindy walks out of the room (leaving the doll behind) for only a few short seconds, then walks backs in and suddenly the doll is gone. Bobby walks back into the room and is immediately accused. Reviewing all this, Bobby wouldn't have enough time to walk into the room and take the doll without being seen by Cindy.
Corrected entry: Tiger escapes from Mike's car by pawing on a power-window lever that doesn't even exist. In fact, a manual window crank can be seen in the same shot.
Corrected entry: Jan introduces her school friend to Carol, Cindy and Bobby. Carol greets her with "Hi, Kerry, welcome to the neighborhood". Carol was not told that Kerry was new to the neighborhood. (00:01:55)
jairodrigue
Corrected entry: Marcia gets braces, however in following episodes the braces have magically disappeared. Braces would never be put on someone unless they were going to remain for at least 6 months - the usual treatment at the time was 2 years.
Corrected entry: Throughout the whole episode, the girls, the boys, and Mr. & Mrs. Brady searched through the catalog multiple times to try and find something to get with everyone's books of stamps, and couldn't decide on anything. Then the girls came home with a color TV instead of a sewing machine, and everybody was thrilled and delighted. If a color TV was such a wonderful item for the family to choose, then why didn't anybody decide on it or think of it earlier, when they were combing through the catalogues?
Matty Blast
Corrected entry: In about the middle of the series,Tiger just disappears. Where does he go? They never explain this at all. They even make reference to this in The Brady Bunch movie when Carol says "Tiger,what ever happened to that dog?"
Join the mailing list
Separate from membership, this is to get updates about mistakes in recent releases. Addresses are not passed on to any third party, and are used solely for direct communication from this site. You can unsubscribe at any time.