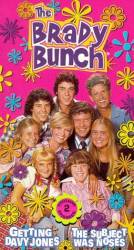 5 mistakes in 54-40 and Fight
Other mistake: The scene where Alice is giving Tiger a bath was the same one used in "Katchoo Katchoo", albeit with some audio dubbing thrown in, like when Alice complains about the floor getting wet. (00:04:05)
Jeff Swanson
Other mistake: A final contest is given for control of "green stamps" with all the kids building a "House of Cards." Whomever causes the cards to fall will be the losers. All is going well until Tiger comes in and knocks into Greg and causes him to bump the table and knock over the cards. If you watch closely at the end of the scene, when all the dialog is finished, you can see Mike trying to knock down a few remaining cards. However they keep popping up. Probably due to the fact that the cards were glued together to make it easier for the kids to build upon.
Continuity mistake: When the kids are building the card castle to see who would get to choose what they get with the stamps, Jan is putting a card on, in one shot her hair is up in a ponytail then in the other shot her hair is down. This happens back and forth when the shots change.
Continuity mistake: When Alice enters the kitchen you can see the ironing board from the doorway. When she is giving Tiger a bath the Ironing board has moved to the wall that can not be seen from the doorway. (00:01:30 - 00:04:05)
jairodrigue
Continuity mistake: When Marcia takes her last turn placing a card at the top of the tall house of cards, in the shots facing her she's stressed about accidentally collapsing the cards so she holds back her charm bracelet with her left hand, but in the first shot facing the three boys Marcia's left arm is down at her side and the charm bracelet is dangling at her wrist, right beside the cards. (00:21:00)
Super Grover
Join the mailing list
Separate from membership, this is to get updates about mistakes in recent releases. Addresses are not passed on to any third party, and are used solely for direct communication from this site. You can unsubscribe at any time.