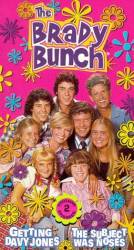 0 mistakes in
Mike's Horror-Scope
More quotes from The Brady Bunch
Snow White and the Seven Bradys - S5-E3
Trivia: The teacher being honored, "Mrs. Whitfield", was played by Frances Whitfield who was the on-set "teacher/legal supervisor/referee" for the kids during the show's run.
More trivia for The Brady Bunch
Question: There's a scene in this episode I haven't seen in over 30 years (edited out in more recent years) where the 4 kids upstairs are arguing (boys vs girls) and the kids continuously stamp their feet on the floor and then Alice is shown downstairs watching her cake in the oven. Periodically with all the stomping from upstairs, the cake gets flatter until very flat the end of the scene. Question is does anyone remember this scene and why does the cake in the oven get flatter every time a kid stomps from upstairs?
More questions & answers from The Brady Bunch