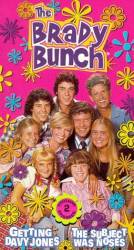 Question: Would someone please explain to me why Marcia did not just simply remove her dangly bracelet that endangered the girls standing in the house of cards competition after Carol said "Oh Marcia, Marcia, your bracelet"? It would have made it less stressful on her not to mention her team, and she wouldn't have had to restrain it with her other hand.
Question: In season 2, there were 5 episodes made without one of the kids appearing in the episode. (Marcia, Jan, Cindy, Peter, and Bobby were each absent one episode). What was the reason behind this?
Question: When you look at the front of the house, the 2nd story is to the left of the front door. The stairs and the bedrooms are on the right. Also, there has to be a very high cathedral ceiling to account for the stairs which isn't shown in the front of the house photo. Does anyone know what the house looks like where the show was filmed?
Question: Two part question: Mike throughout the series is someone depicted as a person of intelligence. So when he puts both of his sketches into one cylinder and puts Jan's Yogi Bear poster in the now empty identical cylinder, why does he place them right next to each other under the table? More importantly why doesn't he check to see if he has the correct one when he leaves for the meeting? When he returns to the Manager's office to inform them he hasn't found the sketches, why does he carry the cylinder with the poster with him?
jairodrigue
Question: When Greg and his teacher are going over math in the classroom, they both mention the words "Base 10" in a math problem. What does "Base 10" mean?
You Can't Win 'Em All - S4-E22
Question: I recently saw this episode for the first time in a few years and one scene seemed altered. When Cindy was asked about which side an egg would fall from a rooster, she said "neither side cause roosters don't lay eggs." For many years her answer was "neither side cause roosters crow...HENS lay eggs." This did not appear edited but was there more than one version produced which explains the difference in her line?
Audio problem: At the end of the show when Alice is blowing the whistle, the whole family comes to the top of the stairs. Mike says "Alice, it's 6 o'clock in the morning" Watch his mouth. It looks as though he curses and the (curse) word was dubbed out.
More mistakes in The Brady Bunch
More quotes from The Brady Bunch
More trivia for The Brady Bunch