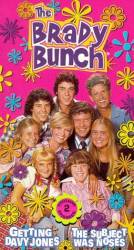 3 mistakes in Snow White and the Seven Bradys
Snow White and the Seven Bradys - S5-E3
Audio problem: When the kids are painting a cardboard tree for the play, they ask their dad what he thinks of it. He then says "you better ask the two poodles next door." As he walks away he seems to almost trip/fall over something. Then the mom is heard laughing, even though she's not in the scene.
metalmark
Snow White and the Seven Bradys - S5-E3
Continuity mistake: When Mike rides up on stage he points to the damsel in distress with his right arm extended, but in the closeup it's his left arm extended.
Super Grover
Snow White and the Seven Bradys - S5-E3
Continuity mistake: During the play, Mike's "Prince Charming" hat disappears and then reappears when he leans over to kiss Carol. (00:22:15)
Jeff Swanson
More quotes from The Brady Bunch
More trivia for The Brady Bunch