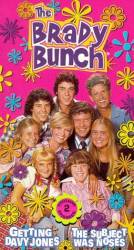 Revealing mistake: When Peter is on the trampoline, instead of saying "Peter," Carol says, "Go get 'em, Chris!" and a few minutes later the same thing happens after Cindy has a turn alone, you can hear Greg say "Why don't you give it a try, Eve?" (00:18:10 - 00:19:50)
More The Brady Bunch revealing mistakes
The Spanish Inquisition - S2-E2
Revealing mistake: At the very end when The Spanish Inquisition bursts into the courtroom, you can see that Biggles is not played by Terry Jones (as he is playing the accused judge in the court sketch).
More Monty Python's Flying Circus revealing mistakes
Revealing mistake: After Mr. Maxwell says that the local people refuse to work on the movie, Velma asks why. In her close up, her right pupil is horribly misshapen. Not round, but a wobbly, almost cloud like shape. (00:01:35)
Quantom X
More Scooby-Doo, Where Are You! revealing mistakes
A Sentimental Journey - S1-E19
Revealing mistake: Dialogue in the episode specifically mentions the A2 and A282 roads near Dartford, Kent - the actual roads used were the A1 Barnet by-pass, Galley Lane and Well End Road. The error is revealed by the sight of a road sign that appears just as the Austin Princess Limousine turns on the the main road - the sign shows that the car is not turning on the the A2/A282 near Dartford, but the A1 at Barnet some 40 miles away.
More Randall & Hopkirk (Deceased) revealing mistakes
Revealing mistake: When the drunk Olive is standing on the chair lifting her skirt up it's obvious that Michael Robbins the actor who plays Arthur is trying very hard not to laugh.
More On the Buses revealing mistakes
Revealing mistake: In the song "Living Island", we see Judy frog jumping over Pufnstuf. When she goes back down, the wires holding her up and putting her down are visible.
More H.R. Pufnstuf revealing mistakes