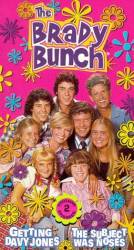 3 mistakes in Is There a Doctor in the House?
Is There a Doctor in the House? - S1-E13
Audio problem: When Mike walks into the kitchen and sees the chart with the list of kids on it and what ailments they've had, he comments on one of the ailments, saying "None of the kids have had distemper." However, if you watch his mouth, he appears to have originally said "rabies."
Jeff Swanson
Is There a Doctor in the House? - S1-E13
Plot hole: Lots of factors here: The doctors end up with the opposite kids that they were supposed to have... Why didn't they simply switch in the first place rather than go through all the drama? Also, the male doctor admits Alice let him in and most likely Alice would have told him first door on the right (like she's given directions in other episodes) to locate Peter. And the biggest question of all is, what doctor would make a house call and not look for their patient rather than just ending up with someone else they were not called to see (remember, each parent called their own doctor to see their biological kid).
Is There a Doctor in the House? - S1-E13
Continuity mistake: When Carol and Mike are bringing stacked lunch trays upstairs to the kids, the milk glasses on the middle and bottom trays that Carol's holding switch to the opposite sides twice, in the wideshots and closeup. Then when Carol picks up the girls' stacked trays, the glass of OJ is on the bottom tray (after Peter's reaction to broccoli, it looks as if the OJ glass is gone), then as Carol walks into their room the OJ is now on the middle tray.
Super Grover
Join the mailing list
Separate from membership, this is to get updates about mistakes in recent releases. Addresses are not passed on to any third party, and are used solely for direct communication from this site. You can unsubscribe at any time.