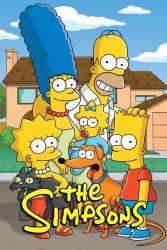 $pringfield (or How I Learned to Stop Worrying and Love Legalized Gambling) - S5-E10
Continuity mistake: When Marge comes home after the bogeyman incident, Homer trips over a footrest. You can see Bart sitting there however his pyjama's are a dark green color when before they were a bright green color. (00:16:35)
Lummie
$pringfield (or How I Learned to Stop Worrying and Love Legalized Gambling) - S5-E10
Continuity mistake: As Marge arrives home and sees the bullet holes in the door, the shot changes to a POV shot from behind the door and you can see there are some changes in the holes. The first change is there are three bullet holes on the right hand side which are all the same distance from each other, when she enters the middle hole has moved closer to the bottom one. The other change is the large hole in the middle of the door. On the bottom right hand side its shape goes from being a little irregular to a more round shape. (00:16:20)
Lummie
$pringfield (or How I Learned to Stop Worrying and Love Legalized Gambling) - S5-E10
Continuity mistake: When Homer makes the food with the mix of Tom Collins mix, cloves and a pie crust you can see the labels on the Tom Collins mix and the cloves change between mixing the ingredients and after tasting them. Also the top on the Cloves bottle keeps changing through the scene. When Homer takes the bottle out of the fridge you can see a red top on it. When he sits down the top has disappeared and starts pouring the cloves. When the shot changes the red top is back and it disappears after that. (00:15:20)
Lummie
Continuity mistake: The colour of the alien poster in the nerds' room changes from pink to blue.
He's My Brother
Continuity mistake: When Homer drives his car to work it is lime green instead of the usual purplish color.
Tobin OReilly
$pringfield (or How I Learned to Stop Worrying and Love Legalized Gambling) - S5-E10
Continuity mistake: As Bart is on the phone trying to book his new act, you can see there is a split down his white shirt. When the shot changes and he tells Lisa to be quiet you can see that split has disappeared. (00:15:05)
Lummie
Revealing mistake: When Homer is on the news talk-show talking to the cat burglar, he puts his hand on his chest and the opening of his shirt appears over his hand.
Revealing mistake: When everyone is cheering for Ned at the neighborhood watch meeting, Apu's hand is yellow.
Revealing mistake: When Moe grabs Ned Flanders' shirt at the bar, Ned's torso is incorrectly drawn over his arms as well as the mug he is holding. (00:10:50)
Dalek4Ever
Tree House of Horror IV: The Simpson's Halloween Special IV - S5-E5
Other mistake: When Bart says the picture of the school bus is actually called The Ghoul Bus, Lisa points out the name tag says The School Bus. If you closely at the name tag, you can see nothing is written on it.
Casual Person
Tree House of Horror IV: The Simpson's Halloween Special IV - S5-E5
Continuity mistake: Just before Homer is sucked into Hell, he is wearing pyjamas. When he's in Hell, he's wearing his usual day clothes.
Casual Person
Video
Continuity mistake: This is a mistake for the introduction from seasons 2-20 (1991-2009). When Homer screams, he turns round. You see this in a wide shot. There are no boxes to the right of the door in the garage. However, two just appear out of thin air when he runs through the garage. (00:01:50)
More mistakes in The Simpsons
More quotes from The Simpsons
More trivia for The Simpsons