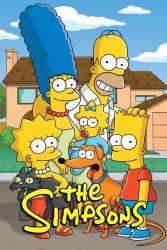 3 mistakes in Homer Goes to College
Continuity mistake: Just after Homer has used the proton accelerator, Dean talks to him. In this scene he is writing something on a piece of paper, but he writes on the same line every time. He finishes writing on that line, then starts on it again.
OL1V3R666
Audio problem: When Homer is talking to the family about their complaints about the nerds, he says something that ends in "where we can all live in harmony". When he says this the audio does not match his mouth movements.
OL1V3R666
Continuity mistake: The colour of the alien poster in the nerds' room changes from pink to blue.
He's My Brother
Join the mailing list
Separate from membership, this is to get updates about mistakes in recent releases. Addresses are not passed on to any third party, and are used solely for direct communication from this site. You can unsubscribe at any time.