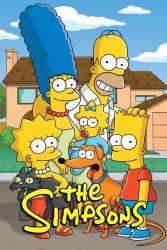 Tree House of Horror IV: The Simpson's Halloween Special IV - S5-E5
Other mistake: When Bart says the picture of the school bus is actually called The Ghoul Bus, Lisa points out the name tag says The School Bus. If you closely at the name tag, you can see nothing is written on it.
Casual Person
Other mistake: When Homer and Chief Wiggum fall into the waste, in the second shot, the cliff edge looks very weird. It seems to be transparent with Ruth's car floating in mid-air, and there is a big curved wall that doesn't have ground at the top.
OL1V3R666
Other mistake: When Ned and Homer's raft is going fast, Ned decides to go on the left side of the gorge, so he paddles on the left side, which causes a raft to turn to the right, which 1, means the raft moved to the left, which is impossible, and 2, he wanted to go to the left, but paddled like he wanted the raft to turn right.
Other mistake: In the scene where the Simpsons are viewing the path of the Corvair's Re-entry, the blip representing the spaceship crosses the entire US from North-West to South-East in about three seconds. This is really impossible, even for something going as fast as a spaceship on re-entry would be.
Video
Continuity mistake: This is a mistake for the introduction from seasons 2-20 (1991-2009). When Homer screams, he turns round. You see this in a wide shot. There are no boxes to the right of the door in the garage. However, two just appear out of thin air when he runs through the garage. (00:01:50)
More mistakes in The Simpsons
More quotes from The Simpsons
More trivia for The Simpsons
Join the mailing list
Separate from membership, this is to get updates about mistakes in recent releases. Addresses are not passed on to any third party, and are used solely for direct communication from this site. You can unsubscribe at any time.