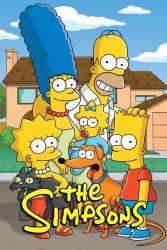 7 mistakes in Black Widower
Audio problem: During Selma and Bob's conversation at the dinner table in the Simpsons' house, Bob says "Although kissing you would be like kissing a divine ashtray." His lips don't move when he says "although".
OL1V3R666
Revealing mistake: When Moe and Barney are seen drinking wine at the wedding, somebody walks away with a tray. When they are drinking the animation is repeated because you can see part of the tray keeps coming on and off-screen. (Look by the bottom right). (00:13:25)
OL1V3R666
Other mistake: How can Sideshow Bob make the "I H8 BART" licence plate if there are no number keys on the keyboard? (00:04:45)
OL1V3R666
Other mistake: Near the beginning of the episode when Selma and Sideshow Bob arrive at the Simpsons' house, Bart and Lisa scream and hide behind Marge. Selma says "What the - ?" but the DVD subtitles say that Marge says it. It is shown "MARGE: What the - ?". (00:02:30)
OL1V3R666
Continuity mistake: After the dinner with Sideshow Bob, Patty, Selma and the Simpsons, the food on Bart's plate changes between shots. We first see a piece of meat with some peas, then we see two pieces of meat and some mashed potato. It changes randomly throughout the scene. (00:02:40 - 00:07:05)
OL1V3R666
Continuity mistake: During the wedding, look at the man with the blue hair carrying the tray with hors d' oeuvres that Homer is eating. When Homer says "Hey wiener boy. Where do you think you're going?" the man's collar changes from white to black instantly.
Other mistake: When Sideshow Bob leaves Selma to watch MacGyver, the room opposite is 350. Later when he is being taken away by the police there is a room 44. It's unlikely these two numbers would be on the same floor.
xxbex19xx
Join the mailing list
Separate from membership, this is to get updates about mistakes in recent releases. Addresses are not passed on to any third party, and are used solely for direct communication from this site. You can unsubscribe at any time.