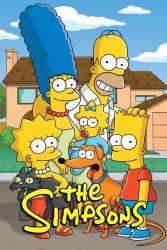 9 mistakes in Homer's Night Out
Audio problem: Both Lenny and Carl's voices are wrong. At one point Carl's voice is higher pitched, and Lenny keeps speaking like Moe, or like a voice we haven't heard before.
He's My Brother
Continuity mistake: When Bart and his friends are making copies of the photo of Homer, the banner across the copier says "Copies 5 cents," but when they go to deposit the money it says 10 cents.
Continuity mistake: When Homer and Bart are at the cabaret show, Mr. Burns and Smithers are there with two women. In almost all of the shots there is a woman sitting between Burns and Smithers, except in the close-up of them when Burns asks "How does he DO it?". Then Smithers is shown as sitting right next to Mr. Burns. (00:21:00)
Twotall
Audio problem: During the party, when Princess Kashmir asks Homer to dance, her mouth doesn't move. (00:08:10)
Continuity mistake: When Marge kicks Homer out he turns away from the door. When she slams the door he is now stood facing it completely. (00:12:40)
Ssiscool
Continuity mistake: Milhouse makes a copy of Bart's photo for a brown skinned boy, but the boy's skin turns yellow when his father scolds him. (00:09:40)
Nikolai
Audio problem: When Lenny introduces Princess Kashmir, his mouth is open without moving when he says "presenting", and when he says "Princess Kashmir", his mouth only moves when he says "Princess", but is closed when he says "Kashmir." (00:07:50)
Nikolai
Revealing mistake: When Bart makes a copy of his photo for Lewis, footage of Milhouse inserting a coin into the copy machine is used. You can see Milhouse's pink shirt sleeve instead of Bart's orange shirt sleeve. This same shot is again reused a third time seconds later. (00:09:55)
Nikolai
Audio problem: When princess Kashmere is introduced, we hear Homer laughing, however we see him eating and not opening his mouth. (00:08:00)
Ssiscool
Join the mailing list
Separate from membership, this is to get updates about mistakes in recent releases. Addresses are not passed on to any third party, and are used solely for direct communication from this site. You can unsubscribe at any time.