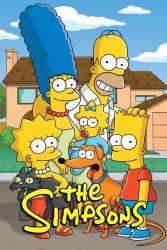 9 mistakes in Home Away From Homer
Home Away From Homer - S16-E20
Continuity mistake: When Homer rings the doorbell of the Flanders' former house to visit the new neighbour, it moves downwards on the door frame. In the first shot it lines up with the gap between the lock and the doorknob, but in the next shot it is beside the doorknob, and in other shots in the episode the doorbell isn't even there. Also, the glass panels on both sidelights line up with the door differently between shots.
OL1V3R666
Home Away From Homer - S16-E20
Continuity mistake: As the Simpsons are in the cinema watching "Kosovo Autumn" you can see there is a seat next to Homer to the right of screen. When Homer starts complaining about the film but cannot leave because he is stuck in his seat, the shot changes and we see him from behind however the seat that was next to him has disappeared.
Lummie
Home Away From Homer - S16-E20
Continuity mistake: For "Home Away From Homer": Bart looks out his bedroom window and sees the college girls doing sexual actions in the Flanders' spare bedroom. But, there is never a window in Bart's room that could possibly face the Flanders' house. [Bart's window in many episodes does face Flander's house but in other episodes like "Bart's Friend Falls In Love" and "Bart The Mother" it faces the treehouse which is the backyard of the house.]
Home Away From Homer - S16-E20
Continuity mistake: When Homer tries to leave his seat in the cinema and complains about eating the apple, the shot shows his body fat has wedged him in the seat. However we can see from all the shots before this that the fat was never wedged in like it was when he was trying to leave.
Lummie
Join the mailing list
Separate from membership, this is to get updates about mistakes in recent releases. Addresses are not passed on to any third party, and are used solely for direct communication from this site. You can unsubscribe at any time.