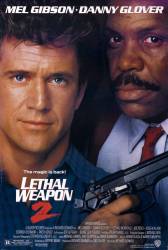 Revealing mistake: When the windshield is shot up, Riggs knocks the glass off the car. But interior shots that follow show Riggs' tall, fluffy hair isn't moving at all in the high-speed air rushing into the car. (00:02:15)
johnrosa
Revealing mistake: Movie physics occasionally dictate random explosions, but this is too bizarre. Near the start, a cop car smashes through a caravan, and the caravan blows up. Fair enough, may have hit a gas cylinder or whatever. We see the cop car, practically undamaged, skid to a halt. Cut to a few reaction shots, then suddenly the cop car just blows up for absolutely no reason whatsoever. (00:02:25)
Jon Sandys
Revealing mistake: When the small car is launched into the air, the underside is plainly visible, showing no normal working parts like a suspension or drivetrain. It has a flat pan bottom with a square-tube support structure to make it very light for its flight and to retain it shape. (Director's Cut.) (00:42:40)
johnrosa
Revealing mistake: When Leo gets his Subway sandwich, he complains that it's tuna. When he holds it up a dark red lunch meat is visible, like salami.
Ian Hunt
Revealing mistake: When Riggs is holding on to the front of the tow truck, in some wider shots you see how his jacket is squeezed by the rope which ties him to the car. (00:37:00)
NancyFelix
Revealing mistake: In Rudd's office Riggs stops the first attacker with a good head butt. He misses the guy's face and just touches the chest a little, but in the next shot the guy is dramatically holding his nose. (01:01:45)
NancyFelix
Join the mailing list
Separate from membership, this is to get updates about mistakes in recent releases. Addresses are not passed on to any third party, and are used solely for direct communication from this site. You can unsubscribe at any time.