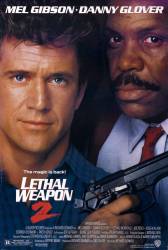 Continuity mistake: When firing his gun at Riggs through the flatbed's rear window, the hotel waiter's shooting hand switches from left to right between shots. (00:40:50)
ryguy_1983
Continuity mistake: When the bathroom explodes, from one angle we see the toilet come sailing out over the roof of a police truck parked at the front of the house. While the angles make it a bit tricky to judge, there's a definite leftward trajectory. We then cut to a closeup of Murtaugh's car, and the toilet lands on it as if it was flying to the right. Even if the angles are misleading, in the first shot the police truck and other cars are parked to the right of the exploding window. In the shot of Roger's car he's also parked to the right, but without all the cars visible around it which there should be. (00:57:15)
Jon Sandys
Plot hole: The hitman in the tow truck leans into the rear/left corner of the cab as the surfboard approaches. The board hits the glass at the very top, dead center. Hence, it definitely misses him completely, yet the hitman is killed. Windshields don't break into "shards" (which is another mistake made listed here, and as it can't exist, it can't be the cause of death) and the roof is not damaged. He is the driver, and he stops the truck by braking. There is no vehicle collision. It is clear to all viewers that the makers intended the surfboard to be the cause of death - nobody watching the film thought otherwise.
johnrosa
Continuity mistake: When Riggs jumps from Murtaugh's station wagon to catch up with the BMW on foot, he springs onto its rear window and asks the driver for proof of insurance. Interior brake lights are shining on his clothes before he falls to the pavement. Seconds later the driver stops to take a shot at Riggs, but now the BMW is missing the interior brake light altogether. (00:03:40)
ryguy_1983
Join the mailing list
Separate from membership, this is to get updates about mistakes in recent releases. Addresses are not passed on to any third party, and are used solely for direct communication from this site. You can unsubscribe at any time.