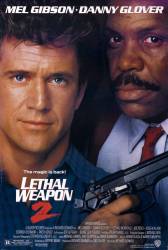 Deliberate mistake: The way diplomatic immunity is depicted in the movie is extremely inaccurate. While technically a sufficiently ranking diplomat could perform the acts shown in the movie without being subject to arrest, their home government would be requested to turn the diplomats over for trial, or the diplomat would be declared persona non grata and expelled from the country. A drug smuggling ring and murdering multiple policemen is far, far more serious than actual crimes that diplomats have been expelled (or handed over for trial) for in the real world. Additionally, the consul general and his officers would not be considered diplomats. They would only have limited consular immunity with regards to "official acts" in the course of consular business.
More mistakes in Lethal Weapon 2
Arjen Rudd: Certain policemen in this city have become an intolerable nuisance. They are obviously onto us again. How do you propose to handle the situation?
Pieter Vorstedt: Warn them off. It's my experience that a scared cop is more useful than a dead one.
Arjen Rudd: A warning... Is that not a bit tame?
Pieter Vorstedt: Depends how you do it.
More quotes from Lethal Weapon 2
More trivia for Lethal Weapon 2
Question: After the car crash near the start, Riggs finds that the driver has disappeared, and says "This guy's Mandrake." What does that mean?
Jon Sandys
More questions & answers from Lethal Weapon 2