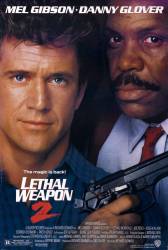 Question: I have heard a rumour that there is a deleted scene where Riggs kills the two guys who dropped him off the pier in a straight-jacket. Apparently it was too violent to keep in. If this is true then where could I see the deleted scene?
Question: Mel Gibson says "They killed them both." I know he's referring to his wife, but who's the second person?
MikeH
Question: Even with Diplomatic Immunity surely the cops aren't just going to stand back and let their colleagues die? is Diplomatic Immunity REALLY that infallible?
MovieBuff09
Question: I've seen this movie many times, however I noticed something different when I was it on TV in the UK recently. In the cargo hold, Riggs is dodging in and out of cover behind shipping containers and shooting bad guys. In the TV version I saw, as Riggs breaks his cover and walks forward shooting we hear a voice-over from Riggs, repeating the names of those victims killed by the South Africans ending with Rika and Vicki. I have never noticed this before in any of the DVD / VHS releases. I checked my DVD and no voice-over. Am I going mad?
Question: After the car crash near the start, Riggs finds that the driver has disappeared, and says "This guy's Mandrake." What does that mean?
Jon Sandys
Continuity mistake: At the end of the movie, when Riggs is in the cargo area, a gunman shoots at him, he rolls and starts emptying the clip into him - you see the bullet holes in the gunman. But as Riggs is face to face with the gunman, the holes disappear.
More mistakes in Lethal Weapon 2
Rudd: Now we DO have a serious diplomatic situation here, which I will be taking up with your state department first thing in the morning.
Riggs: Whoa, you got me quakin' in my boots, but I'm still gonna bring you down.
Rudd: My dear officer, you could not even give me a parking ticket!
More quotes from Lethal Weapon 2
Trivia: The first time we see Riggs in his trailer, there's an advert for some new aftershave called "Hero" on the TV. During the attack on his trailer later, there's a close-up shot of a bottle of aftershave being destroyed - freeze-frame it and you'll see the brand: "Hero" again.
Jon Sandys
More trivia for Lethal Weapon 2