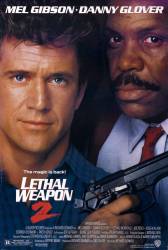 Visible crew/equipment: When Riggs first starts shadowing Rudd, he cuts off Rudd's car with his truck. They go to the close up shot of Riggs and when he drives away you can see in the reflection of the trucks window, the PANAV on the hood of the Panavision camera. (00:48:35)
Visible crew/equipment: When the BMW flips over and slides across the pavement, a rope is briefly visible towing it along right before making contact with and destroying the storefront. (00:06:15)
ryguy_1983
Visible crew/equipment: On the Alba Varden, just before Riggs gets hit in the leg by a knife, a shadow from the camera, as it moves backwards, can be seen on the orange container to the right of screen. (01:42:30)
mightymick
Visible crew/equipment: There's a shadow of a crew member moving across the lighted trees when Rudd asks Rita in front of the embassy whether she understood what had happened today. (00:44:10)
NancyFelix
Visible crew/equipment: When the hotel waiter aims his gun and takes a second shot at Riggs through the flatbed's rear window, a camera truck makes a brief appearance on the right. (00:40:50)
ryguy_1983
Visible crew/equipment: When Riggs turns up at the house as the pool cleaner you can see the reflection of the camera crew in the window as he walks along the balcony.
Visible crew/equipment: When they fall out of the hotel and into the pool the side shot shows two dark things under the water - this is the under water crew filming the close ups of the actors. The crew cannot be seen in any other scenes around the pool, only on the entry scene.
Join the mailing list
Separate from membership, this is to get updates about mistakes in recent releases. Addresses are not passed on to any third party, and are used solely for direct communication from this site. You can unsubscribe at any time.