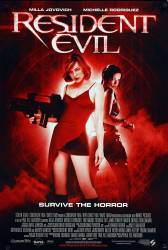 Other mistake: Near the beginning of the movie, Milla Jovovich reads a note that has been left on the desk. She didn't write it, as they demonstrate in the film. However, when they do show the person who wrote the note composing it, the handwriting is different from that in the note from the earlier scene. (00:10:20 - 01:12:25)
Other mistake: Watch Milla Jojovich's hair during the scene when they are held at gunpoint by Spence. Her hair moves from shot to shot. For the most obvious, watch right after Spence shoots the zombie. (01:15:25)
Continuity mistake: When zombie Lisa lies dead on the floor her hair and the papers she lies on change position between the shots. (00:50:55)
Mortug
Continuity mistake: Near the end, when Alice, Rain and Matt are talking to the "Red Queen" in the virus lab, there is a wall-mounted LG Flatron TFT display where the Red Queen shows surveillance footage, etc. One can see an inventory type barcode label in the bottom centre of the screen. The camera cuts away briefly, and when the camera shows the display again, the barcode label is gone and the LG logo is in its place. (01:14:50)
Shaun Ewing
Continuity mistake: When the zombie dog jumps through the window Alice makes a run through the metal door and you can see the door is clean. When it cuts there is lots of blood on the door even before the zombie dog jumps on it. (00:47:45)
Mortug
Continuity mistake: The way the T-Virus capsule hits the ground is the same each time they show it, however when it's on the ground and motionless, the position is changes. During the flash back at the end that Spencer is having, the capsule is all over the place. However at the beginning, the capsule is just in a little straight pile on the floor.
Continuity mistake: In the beginning when the the cylinders are being placed in the holders, in one close-up you can see the middle cylinder being placed and that there is no cylinder to the right of it. When it cuts a cylinder has suddenly appeared. (00:02:20)
Mortug
Continuity mistake: When Matt is at Lisa's desk he looks through some papers, he is looking at a paper which has black squares on it. Then he puts the paper down and looks at another paper. When it cuts to him noticing Lisa approaching he is now holding the paper with the black squares again. (00:50:20)
Mortug
Revealing mistake: In the scene where Milla Jovovich shoots the dogs with the 9mm Beretta she obtained from the dead security guard, a closeup of the gun is shown. Watch the cycling of the slide and you will notice that the ends of the bullets are crimped, indicating the use of blanks. (00:49:55)
AzN InVasian
Continuity mistake: When the person is bumped into and spills coffee on himself, the coffee stains on his shirt changes between the shots. (00:03:05)
Mortug
Continuity mistake: When Alice wakes up in the shower, in one shot, you can see the shower curtain is not hanging over the edge of the shower. But when it cuts, it is. (00:08:40)
Mortug
Continuity mistake: When they are entering the entrance to the Queen's chamber, the Medic is carrying a bag as you can see when the door closes. When it cuts from inside the entrance the bag has disappeared. (00:30:50)
Mortug
Continuity mistake: When Kaplan tells Alice not to listen to the Queen he is carrying the equipment by his right shoulder. When it cuts it has suddenly moved over to his left shoulder. (00:34:45)
Mortug
Join the mailing list
Separate from membership, this is to get updates about mistakes in recent releases. Addresses are not passed on to any third party, and are used solely for direct communication from this site. You can unsubscribe at any time.