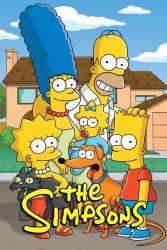 Tree House of Horror VI - S7-E6
Factual error: In "Nightmare On Evergreen Terrace", Martin has a dream, in which he speaks Latin. At one point, he says a verb that doesn't exist: "morire". The words is "mori" (to die), "moritur" (noun dies) or "moreris" (you die). The "moirie" is also on the blackboard behind Martin. (00:08:20)
Tree House of Horror VI - S7-E6
Factual error: During the "Attack of the 50 ft. Eye Sores" segment, the family steps into the footprint of the giant donut guy to look at the label. The label should appear to be spelled backwards, but it was not.
Factual error: If Homer's stomach was really caught on the towel rail the way they show it to be, he wouldn't be able to see the scales at all without having to look round it.
He's My Brother
Who Shot Mr. Burns? (2) - S7-E1
Factual error: When Chief Wiggum opens the revolver's chamber, there's 5 rounds with one open slot. In the next shot, we see the reverse end of the chamber and it's drawn in such a way to indicate those 5 rounds all have bullets in them still, meaning the empty slot is from when Maggie shot Mr. Burns. But revolvers don't eject spent shells automatically and no one handled the gun after it dropped on the floor. So the empty casing should have still been in there when Wiggum opens it up for the first time.
Bishop73
Join the mailing list
Separate from membership, this is to get updates about mistakes in recent releases. Addresses are not passed on to any third party, and are used solely for direct communication from this site. You can unsubscribe at any time.