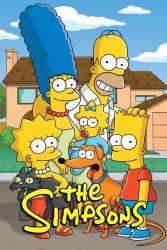 The Simpsons Christmas Special: Simpsons Roasting on an Open Fire - S1-E1
Continuity mistake: Lewis changes from black to yellow when Milhouse dares Bart to pull Santa's beard off. (00:14:10)
More mistakes in The Simpsons
Tree House of Horror X - S11-E4
[The Simpsons are driving down a road as fast as possible.]
Homer: Dear God, it's Homer. If you really love me you'll save my life now.
[The gas needle immediately drops to empty and the car stops.]
Homer: D'oh.
More quotes from The Simpsons
Trivia: The only voice artists who regularly perform as only one character are Yeardley Smith as Lisa and Marcia Wallace as Edna Krabappel. Yeardley has also voiced different versions of Lisa (Lisa Jr. and Lisabella) in at least two other episodes.
More trivia for The Simpsons
Tree House of Horror V - S6-E6
Question: Homer travels back in time and causes changes by what he does in the past, like stepping on a bug. I once saw a movie with the same basic plot: some people travel back in time and are told to be careful not to disturb anything, but when they return to their time everything has changed. In the end they discover it was because they stepped on a butterfly. Does anyone know the name of this movie?
More questions & answers from The Simpsons