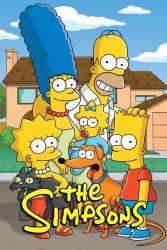 Krusty Gets Kancelled - S4-E22
Trivia: When this episode aired in Mexico, the name of Luke Perry was translated as - believe it or not - Robert Redford... This was because even though Luke Perry was very popular in that country thanks to 'Beverly Hills 90210', the translator did not know him, and absurdly and stupidly assumed no one else in the country did either, so the name of another 'more popular' celebrity was used.
Kamp Krusty - S4-E1
Trivia: At the end of the show, the person singing 'South of the Border' is actually creator Matt Groening. Confirmed on DVD Commentary.
Last Exit to Springfield - S4-E17
Trivia: Mr Burns' reaction - right down to his animation - to the singing of the Union towards the end is a direct spoof of the Grinch (from The Grinch Who Stole Christmas) by Dr. Seuss. His characters also spoke in rhyme, which is why some of Mr Burns' lines are nonsense.
He's My Brother
Marge vs. the Monorail - S4-E12
Trivia: The entire premise of this episode, where a man in turn-of-the-century garb sings and charms his way into the townspeople's hearts as part of an elaborate con, is a takeoff of the musical, "The Music Man" (1962). Even the tunes of the songs they sing are similar.
Krista
Trivia: Marge is accused of shoplifting and hires Lionel Hutz, played by Phil Hartman, as her attorney. In the middle of the trial, Lionel gets an urge for whisky, so he calls his AA sponsor, David Crosby of Crosby, Stills, Nash and Young. When Crosby answers the phone he is looking at the CSNY emblem on an album, which Phil Hartman designed himself in the late '70s.
He's My Brother
Kamp Krusty - S4-E1
Trivia: James L. Brooks, the executive producer, was so enthusiastic about the episode's premise that he wanted to make it the official Simpsons movie. This idea was abandoned because the writers had problems getting the story to 23 minutes, let alone 90 minutes.
Krusty Gets Kancelled - S4-E22
Trivia: The scene where Bette Midler sings to Krusty is an allusion to Johnny Carson's penultimate episode as host of The Tonight Show where Midler was his final guest and sang to him.
Phaneron
Join the mailing list
Separate from membership, this is to get updates about mistakes in recent releases. Addresses are not passed on to any third party, and are used solely for direct communication from this site. You can unsubscribe at any time.