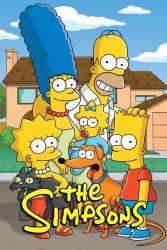 Revealing mistake: At the car convention, Homer chides Bart through the windscreen of Bonnie and Clyde's car. However, Homer's body is not seen through the holes in the windshield, which shows that the holes in the windshield were achieved via a layer of red-coloured holes. (00:04:25)
Continuity mistake: When Homer drives up to the bridge on the mountain to save Barney, half of it is covered with snow, then in the next shot, the snow is gone.
Continuity mistake: At Moe's, when Homer takes hold of the telephone itscolor is red, but then changes to blue as he speaks to Marge.
Super Grover
Continuity mistake: When Bart arrives at school in the bus, after Homer plowed the road for the bus, the sidewalk is covered in snow except for Martin's footprints. Then, when he gets out, the sidewalk has been shovelled, as there is no snow on it. Following this, Bart is pelted by snowballs, which sends him falling face-first into the sidewalk, which is once again covered in snow. (00:10:20)
Other mistake: When Homer is crossing the rickety bridge in the snow plow there is no snow on the planks even though he is in a blizzard and the storm couldn't have just started because the path he just came from was covered in snow.
luke skyjogger
Join the mailing list
Separate from membership, this is to get updates about mistakes in recent releases. Addresses are not passed on to any third party, and are used solely for direct communication from this site. You can unsubscribe at any time.