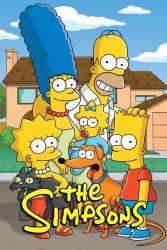 3 mistakes in Marge in Chains
Continuity mistake: When Marge comes to pay for her shopping, she empties her left pocket on her coat, but when Sanjay finds it in her pocket, it's in her left pocket. We know it wasn't in her pocket anyway because when Sanjay finds it, it is bigger than the size of her pocket.
Joe Mc
Continuity mistake: When the bottle of bourbon is found and taken out of Marge's pocket, the bottle is grey. But when Sanjay throws it to Apu, and Apu catches it, the bottle has now changed to a brown colour. (00:08:30)
Hamster
Audio problem: At the end of the episode the statue of Jimmy Carter with Marge's hairdo is unveiled, and the assembled throng applaud her reaction. They are all chattering away, but no sound is coming out of their mouths - we only hear the sound of clapping.
Join the mailing list
Separate from membership, this is to get updates about mistakes in recent releases. Addresses are not passed on to any third party, and are used solely for direct communication from this site. You can unsubscribe at any time.