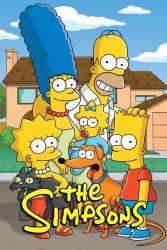 Tree House of Horror X - S11-E4
Trivia: When the Collector places Lucy Lawless inside the plastic bag, you can see Dr Who and Matt Groening (The Simpsons' creator) in plastic bags among others. (Matt's the man with the beard and glasses.).
Missionary: Impossible - S11-E15
Trivia: At the end of the episode when Betty White is asking for donations, you can see characters from many other Fox shows manning the phone lines: Bender the robot from Futurama, Hank Hill from King of the Hill, Thurgood Stubbs from The PJ's, Mulder from X-Files, and Luke Perry from Beverly Hills 90210. The owner of Fox, Rupert Murdoch,is also answering phones. The logo from Family Guy is also on the TV Betty White turns off.
Kill the Alligator and Run - S11-E19
Trivia: On spring break there's a veejay named "Sepulveda" who is replaced when she gets too old by another one named "Cienega." Sepulveda and La Cienega are both the names of major streets in Los Angeles.
Krista
Trivia: In this episode the Simpsons are labeled finally as a "northern Kentucky family"; this was quickly enough dismissed as a red herring for various reasons. To further mystify, however, if you turn on the English subtitles on the episode, they say "southern Missouri family".
Trivia: Adding to the list of jokes on this show that ended up becoming true in real life, this episode made reference to a Donald Trump Presidency a full 15 years before Trump first announced his candidacy for President.
Phaneron
Video
Continuity mistake: This is a mistake for the introduction from seasons 2-20 (1991-2009). When Homer screams, he turns round. You see this in a wide shot. There are no boxes to the right of the door in the garage. However, two just appear out of thin air when he runs through the garage. (00:01:50)
More mistakes in The Simpsons
More quotes from The Simpsons