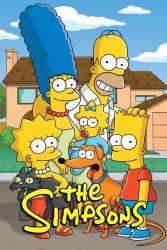 5 mistakes in Bart to the Future
Continuity mistake: During the concert at Nelson's club, when the amplifier makes a terrible sound and everyone covers their ears, you can see that old Carl (sitting with Lenny) is pictured white. I mean, yellow. (He's supposed to be black.)
Continuity mistake: When Lisa is on the television talking about her tax rise, we see inside Moe's tavern. Look at where Lenny and Carl are sitting because they have moved 3 or 4 seats down when we go back to them later on. And there is no reason why they would they move like that.
David Mercier
Continuity mistake: In the White House, Bart puts his cassette player front towards Lisa, but when Lisa pushes it out, it switches to face Bart between shots.
Continuity mistake: When the Ranger stops the Simpsons' car at the start of the episode, watch his "class ring". When he puts his hands inside the car it's on the left hand. However, the flies later eat his hand and take his ring, and it's suddenly his right hand they ate and took it from.
David Mercier
Continuity mistake: Just before Lisa's Presidential "refund adjustment" speech she pushes Bart's tape player off the desk and we can hear it smash off screen. Later in the episode when Lisa agrees to legalise it, he starts playing the same player.
Lummie
Join the mailing list
Separate from membership, this is to get updates about mistakes in recent releases. Addresses are not passed on to any third party, and are used solely for direct communication from this site. You can unsubscribe at any time.