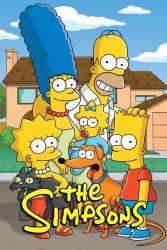 Video
Continuity mistake: This is a mistake for the introduction from seasons 2-20 (1991-2009). When Homer screams, he turns round. You see this in a wide shot. There are no boxes to the right of the door in the garage. However, two just appear out of thin air when he runs through the garage. (00:01:50)
More mistakes in The Simpsons
Homer's brain: It's simple, just use reverse psychology.
Homer: Reverse psychology? That sounds too complicated.
Homer's brain: Alright, don't use reverse psychology.
Homer: Alright, I will!
More quotes from The Simpsons
Trivia: The Simpsons holds the record for most guest stars; it is also the only non-variety show to have had appearances from three former Beatles (Paul, George and Ringo).
More trivia for The Simpsons
Tree House of Horror V - S6-E6
Question: Homer travels back in time and causes changes by what he does in the past, like stepping on a bug. I once saw a movie with the same basic plot: some people travel back in time and are told to be careful not to disturb anything, but when they return to their time everything has changed. In the end they discover it was because they stepped on a butterfly. Does anyone know the name of this movie?
More questions & answers from The Simpsons