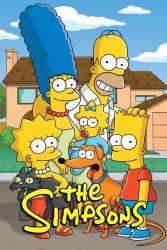 Continuity mistake: When Homer's Vegas wife shows him the video in front of Marge, it shows Homer kissing Ned. This didn't happen when she showed it in the Vegas episode.
More mistakes in The Simpsons
TV Announcer: The Continental Soccer Association is coming to Springfield. It's all here: fast kicking, low scoring. And ties? You bet.
Bart: Hey Dad, how come you've never taken us to see a soccer game?
Homer: I don't know.
TV Announcer: You'll see all your favorite soccer stars. Like Arriaga, Arriaga II, Barriaga, Aruglia, and Pizzozza.
Homer: Oh, I've never heard of those people.
TV Announcer: And they'll all be signing autographs.
Homer: Woohoo!
TV Announcer: This match will determine once and for all which nation is the greatest on Earth. Mexico or Portugal.
Phaneron
More quotes from The Simpsons
Trivia: The Simpsons holds the record for most guest stars; it is also the only non-variety show to have had appearances from three former Beatles (Paul, George and Ringo).
More trivia for The Simpsons
Tree House of Horror V - S6-E6
Question: Homer travels back in time and causes changes by what he does in the past, like stepping on a bug. I once saw a movie with the same basic plot: some people travel back in time and are told to be careful not to disturb anything, but when they return to their time everything has changed. In the end they discover it was because they stepped on a butterfly. Does anyone know the name of this movie?
More questions & answers from The Simpsons