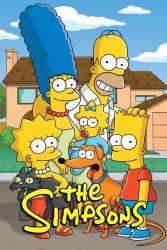 6 mistakes in Lemon of Troy
Continuity mistake: After Bart attempts to escape by using spray paint cans as rockets, his feet alternate between clean and spray-painted for a few shots.
Continuity mistake: Before Bart notices the lemon behind the lemon-shaped rock there is actually no lemon there. We can later see that there is too much of a significant gap between these two objects for the lemon to be hiding behind the rock.
Plot hole: In the scene where Bart has to choose the right Roman numeral door in order to avoid the tigers; right as the Shelbyville kids come bursting through the outer door, Bart picks the right door through humorous deduction and escapes. However, the Shelbyville kids are unable to open the door which doesn't make sense, since there is no lock on the door and there wasn't any mention of Bart blocking or sabotaging the door because only a few seconds later we see him on the street continuing to fret about the lemon tree.
Tobin OReilly
Continuity mistake: When Milhouse is spying with his binoculars with an camouflage outfit on, the colours of some patches change in some other shots. E.g The bottom left corner (from behind) changes from dark green to light green.
Continuity mistake: When all the dads are together in front of Homer's house, one of them is wearing a grey sweater. When they enter the RV the man with the grey sweater doesn't, but throughout the episode he keeps appearing and disappearing on the RV.
Continuity mistake: When the Shelbyville kids drop the basket of lemons when Bart and friends start throwing lemons at them, the position of the basket changes when the Shelbyville kids run off. Note the colour of the Springfield grass and the Shelbyville grass.
Casual Person
Join the mailing list
Separate from membership, this is to get updates about mistakes in recent releases. Addresses are not passed on to any third party, and are used solely for direct communication from this site. You can unsubscribe at any time.